Organization
Kitchen:
Refrigerator, oven, kettle, toaster, coffee maker and a cooking place
Crockery and cutlery
Tea towel, condiments, oil and vinegar

Bathroom:
Tiled with solid wood furniture
Shower, sink, toilets
Towels and hairdryer provided
Sleeping
Bedrooms with bed for 2 persons (1m40)
Comfortable
Curtain on windows and wardrobe for your clothes
Asset: Beds are made on arrival
For babies: folding bed and baby chair
Laundry room
Washer, dryer, detergents at your service.
In this room, you can house pushchairs, bikes or skis (Station of the Vosges are only 45 minutes from Colmar).
Animation
During your stay, come and participate to wine tasting in the cellar which is situated in the estate's courtyard.
You will visit the cellar built in 1602 and taste the 7 Alsatian grape varieties.
You will discover the range of flavors of our wines.
Together, we live the Passion of wine!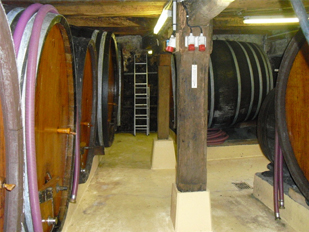 Availability
Weekly rental has priority over daily rental but we can always find solutions for short stays (off summer season and Christmas markets).
(minimum 2 days).
Included in the price: sheets and towels. There are no additional taxes.

If you don't want to bother with the cleaning at the end of your stay, we propose you a cleaning package.
Booking and
payment
Booking is definitive when you sign the rental contract. We will send it by e-mail or by post, and you will have to send it to us with your signature. We ask for a deposit (25% of total). The balance is paid on arrival. Deposits can be paid by bank wire.
For every cancellation, you must cancel 15 days before the date otherwise the deposit will be retained as compensation.